UK GERMAN SHEPHERD RESCUE
UK German Shepherd Rescue - Rescuing & Rehoming German Shepherd Dogs & Puppies throughout the UK

Gift Aid: Your donation could be worth more!
If you are a UK income tax or capital gains tax payer, The UK German Shepherd Rescue Angels Charity can retrieve the tax on your donations from the Inland Revenue. This is at no extra cost to you, and means the Charity will receive an extra 25% from your donation!
You MUST download and complete the declaration form and agree that UK German Shepherd Rescue Angels can treat all the donations you have made in the last 4 years (prior to this year) and all future donations as Gift Aid donations
Please notify UK German Shepherd Rescue Angels if you:

· Want to cancel this declaration;
· Change your name or home address;
· No longer pay sufficient tax on your income and/or capital gains.
· If you pay Income Tax at the higher rate you can reclaim further tax relief in your Self Assessment tax return.
Gift Aid explained
What is Gift Aid?
Gift Aid is a simple way to increase the value of your gift to our rescue - at no extra cost to you. If you pay tax in the UK, our rescue can reclaim the basic rate tax (25%) on your gift. So, if you donate £100, it is worth £125 to UK German Shepherd Rescue Angels

Do I qualify for Gift Aid?
In order for the UK German Shepherd Rescue Angels to reclaim the tax you have paid on your donations, you must have paid income or capital gains tax (in the UK) for each tax year (6 April to 5 April) at least equal to the tax that all the charities or Community Amateur Sports Clubs that you donate to will reclaim on your gifts for that tax year. Other taxes such as VAT and Council Tax do not qualify

How do I sign up to Gift Aid?
The process is simple - all you have to do is make a Gift Aid declaration. If you are donating online, just tick the Gift Aid box on the donation form. If you donate in an UK-GSR Show or event, there is a simple form to sign. Or email us and we'll send you a form through the post or via email.

What does the Gift Aid declaration commit me to?
Nothing! It just ensures that if you choose to donate to UK-GSR, we can claim an extra 25% back from the government.

What is a Gift Aid declaration?
A Gift Aid declaration is a statement by an individual taxpayer that they want a charity to receive the tax paid on their donation back from the government.

How long does the declaration last for?
To simplify matters for both you and the UK-GSR, the declaration wording normally covers present, future and past donations. We can back-claim four years and we will continue to claim until you tell us otherwise, so long as you are eligible.

What do I do if I my tax status changes or I want to cancel my declaration?
To let us know if you stop paying tax or wish to cancel your declaration, please use our gift aid enquiry form.

Can I claim Gift Aid on the funds I have raised?
To claim Gift Aid on your fundraising, we must have the first name or initials, last name, full home address and postcode of each individual donor/sponsor. So please encourage them to tick the Gift Aid box on your sponsorship form when they sponsor you. Without these details we legally can't claim Gift Aid - so be strict with your supporters!


Make yours a Gift Aid Donation
HELP US RESCUE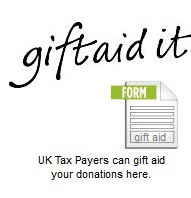 Registered in England and Wales / Company Number 07664845 / Registered Charity Number 1160745
Registered address : Elswick Kennels, Bonds Lane, Preston, Lancashire, PR4 3ZE
© UK German Shepherd Rescue 2010-2020 All Rights Reserved
OFFICIAL UK German Shepherd Rescue Charity - RESCUING & RE-HOMING GERMAN SHEPHERD DOGS AND GERMAN SHEPHERD PUPPIES ACROSS ENGLAND & WALES.
Cookies & Privacy
Unlike other website's we do not track you while you visit us, no information about you, your computer or device is being tracked or information about your Internet use or information about other visited website's is being collected. Third party services the UK German Shepherd may use to provide a service to you will have their own Cookie and Privacy policy. Read more about our
"Cookie & Privacy Policy"
it will tell you about How We Use and Store your information and how long for.
Collect, use, share, and store
your personal information
NOTICE: